Vendor Managed Inventory Manual Book
Over the past 3 years, I have been compiling a manual on Vendor Managed Inventory (VMI). This manual outlines the essential methods and procedures for VMI. To expand on this, it contains relevant information on the mechanisms for partial release of goods including trans-shipment of goods at Free Commercial Zones of Penang International Airport and Kuala Lumpur International Airport in Sepang.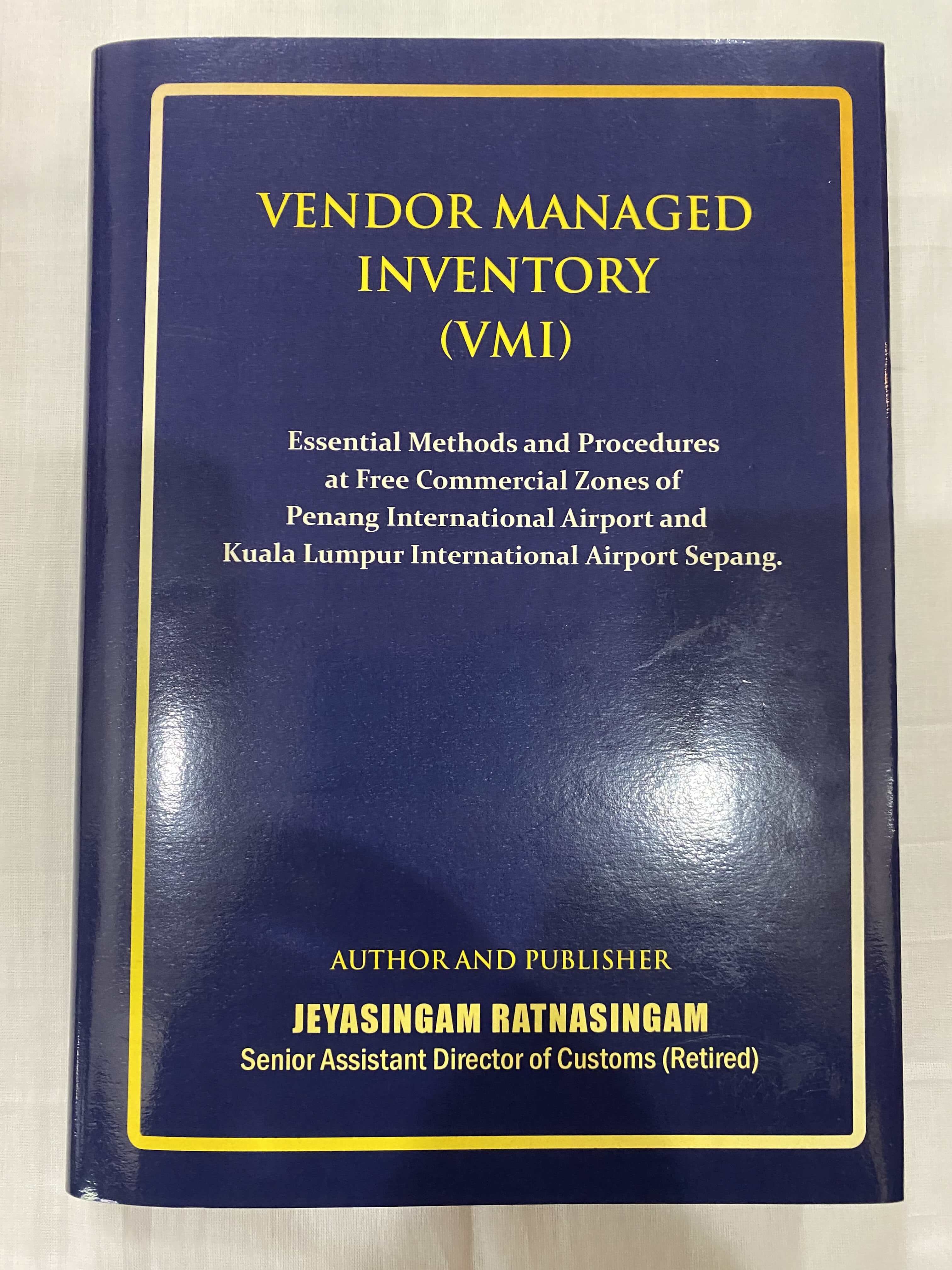 Brief background of my e-Manual
Why is knowledge and compliance on VMI methods and procedures in Free Commercial Zone (FCZ) a vital operational logistics prerequisite for the air environment?
It is a known basic requirement that customs clearance of all imported air cargoes, should be cleared as a complete shipment. However, since 1990 when FCZ was first established, cargoes were found to be cleared in part without adhering and complying to the specified fundamentals of customs clearance procedures.
On 27th April 2007, I, Jeyasingam Ratnasingam, the then Senior Assistant Director of Customs and Head of Second Cargo Complex at Penang International Airport, was entrusted by Customs HQ Putrajaya, to spearhead and prepare the Methods and Procedures for the Vendor Managed Inventory (VMI) Activities Mechanisms, Partial Release of Goods and Trans-shipment of Goods at the Free Commercial Zones at Penang International Airport and Kuala Lumpur International Airport.
The Ministry of Finance Malaysia approved these VMI methods and procedures according to the mechanisms – recommended by the appointed Task Force on 31st May 2007.
Through these approved VMI methodologies at the international airport FCZs — customs brokers, forwarding agents, and logistics providers, operating at the FCZs — were engaged by the Free Industrial Zone operators, Licensed Manufacturing Warehouses or enterprises/traders in the Principal Customs Area — to undertake clearance of goods imported, break bulk activities up to goods item level including inventory management, pick and pack, kitting, calibration, testing (not repairing), grading and product replenishment of goods, based on their customers' requirements and directives.
This comprehensive manual will provide concise and guided directions in relation to the 6 approved VMI activities/scenarios. It contains an overview, detailed process instructions, and process flow charts towards the clearance of cargo at FCZ airports. Furthermore, I am positive this manual will be extremely beneficial to your organisation's operational needs.
If you are interested in finding out more information to solve and facilitate your operational problems such as storage, redistribution, calibration, etc at the airport, I highly recommend you purchase my manual, to have an informed and guided understanding of customs procedural compliance.
Kindly revert with your order and payment details in the attached Vendor Managed Inventory Manual Order Form link: https://forms.gle/NVRKLkihfZHhsqbE8
Please do take note that for hardcopy book orders, a sufficient 28-working day pre-order notice must be allocated from the order date before delivery is made.
Looking forward to sharing my 35 years of hands-on customs knowledge and experience.